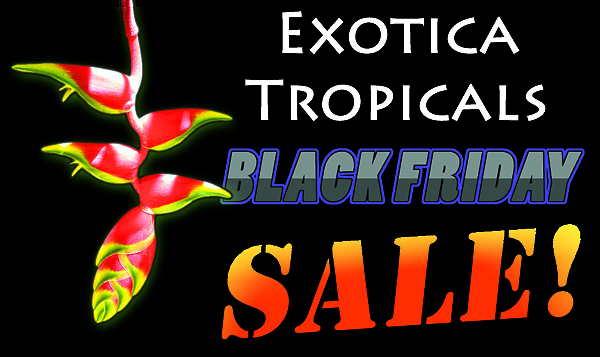 Exotica Tropicals will be having a Black Friday Sale this Friday 11/23 that will extend through Saturday 11/24.
BIG discounts will be offered on  all kinds of plants- including, but not limited to:  Cordylines, Heliconia, Philodendrons and Alocasia.
Got a plant lover on your gift-shopping list?
Exotica Tropicals will also be offering GIFT CERTIFICATES for the holidays, with special discount pricing on certificates both Black Friday and Saturday.
SALE PRICING:
Burle Marx Philodendron  20% OFF
Red Christmas Heliconia  3gal (in bloom now)  10% OFF
All Other 3gal Heliconia (many blooming)  20% OFF
Large Alocasias 7gal (Borneo Giant, etc)  20% OFF
All Alocasia 3gal size  15% OFF
Philodendrons 3gal  15% OFF
Large Crinum Lilys (including Variegated)  20% OFF
Large Rainbow Eucalyptus Tree 15% OFF
Ylang Ylang Tree  10% OFF
Costus & Alpinia Gingers  10% OFF
Chenille Plant 15% OFF
All Cordylines (Ti Plants)  15% OFF
EXOTICA TROPICALS GIFT CERTIFICATES ON SALE:
$50 Certificate for $45.00
$100 Certificate for $85.00
THIS WEEK'S HOURS :
Wednesday :      11/21   9:30 am to 1 pm
Thursday :        11/22  THANKSGIVING – CLOSED
Friday :             11/23   BLACK FRIDAY 9:30 am to 4 pm
Saturday:           11/24  9:30 am to 2 pm

Sunday:             11/25        Closed

SEE OUR CONTACT PAGE FOR INFO & DIRECTIONS
Keep up to date with us!  You can join our mailing list by sending an email to:
ExoticaTropicals@gmail.com
..and also LIKE our Facebook page at:
http://www.Facebook.com/BrevardTropicals
Some recent photos from around the nursery: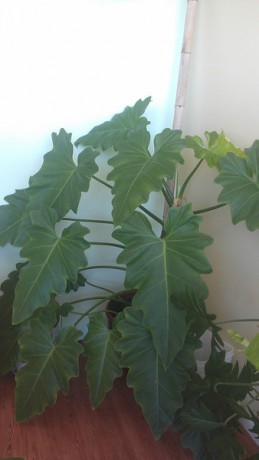 Philodendron Subincisum -
A hardy climber for indoors or out
that can get beautiful huge leaves