If you've been thinking of stopping in to Exotica Tropicals- this is the week to do it!
We will be open Wed 5/28 thru Saturday 5/31 from 9:30 AM to 1:30 PM  We will be closed the next week (first week of June)
The jungle is really taking off at the nursery- we've got Heliconia rostrata "Hanging Lobster Claw" pushing out blooms like mad!
We've got blooming plants in 7 gallon pots available – just plant in the ground and you've got an instant mature blooming clump.
We've also got smaller Heliconia rostata in 3 gallon pots as well.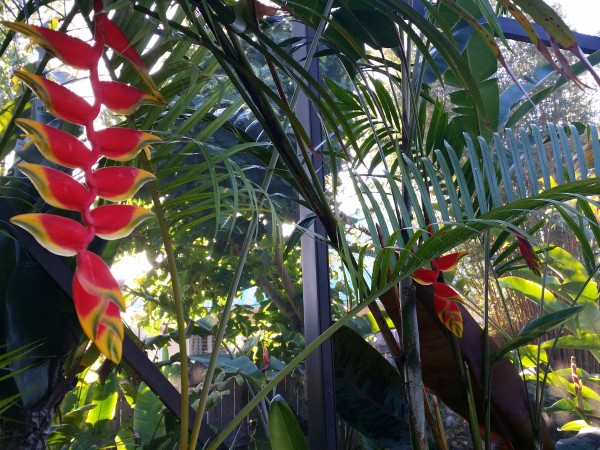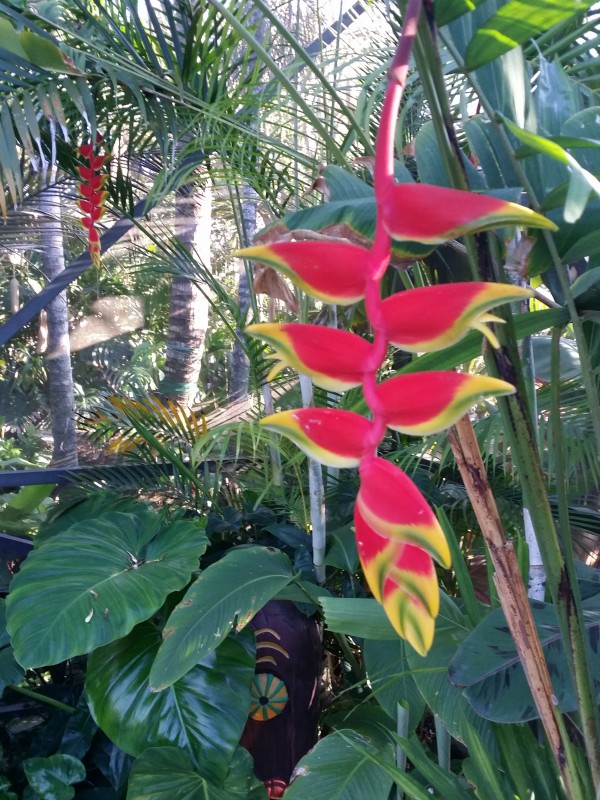 Heliconia rostrata 'Hanging Lobster Claw' putting on a show in my home garden, May 2014
Speaking of Heliconia, we've got beautiful blooming sized specimens of Heliconia 'Pedro Ortiz' – a hybrid cross between a pendant (hanging) bloomer and an upright. The blooms are bright purply red and emerge upright, then twist around to create a very unique exotic display.  They also feature an attractive red edge to the leaves that looks fantatsic when emerging, as well as a nice red speckling to the stalks. Available in 7 gallon pots- mature size.
'Musical Notes Plant'  Clerodendrum incisum is putting out an impressive new flowering. The curly white blooms resemble G clefs and appear on the plant regularly throughout the year. A nice shrub that can take up to full sun and a real eye catcher.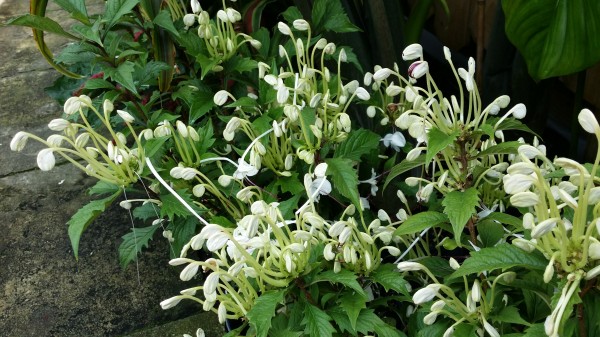 'Musical Notes' Clerodendrum incisum blooming at the nursery
We are down to our last Rainbow Euclayptus and Japanese Fern Trees- stop by this week if you want to get yours!  Japanese Fern Tree (Filicium decipiens)  does very well in Brevard -  a deep green lush tree that is full of leaves that resemble fern foliage. Great for shade, windblock and privacy.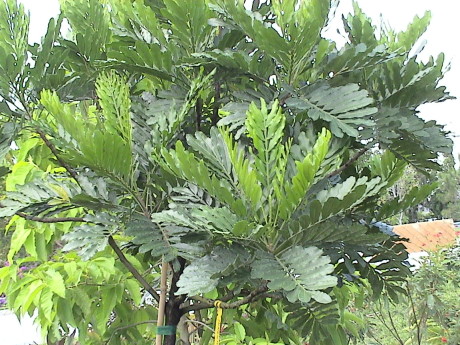 Japanese Fern Tree – A Great Tree For Brevard!
We've also got plenty more odd and interesting goodies at the nursery- new varieties of tropical gingers are coming in all the time as well as new species of Philondendron and Anthurium.. come check out the jungle!