Thanks to all who stopped by for our "soft opening" last weekend- all went very well, and I was quite happy with how things went, even with all the rain
I'm continuing to work on the space and nursery, making improvements here and there, soon I will be bringing in some tropical/exotic decor to give it the final touch.
This Labor Day weekend I will have the nursery open on Saturday only- 8/31 from 9am to 2pm
I have some more red ginger in stock, as well as a few new pink gingers. I am also bringing up some more plants to replenish some that were sold, and add a few more new things.
I currently have some 2 foot tall Rainbow Eucalyptus, a 6 foot tall Ylang Ylang tree (awesomely fragrant flowers from which Chanel #5 is made- I will bring some flowers in with me from the garden) and 3 unique varieties of hibiscus:
"Fiji Island" which has a very tropical looking fuschia/purple bloom in a nice star shape: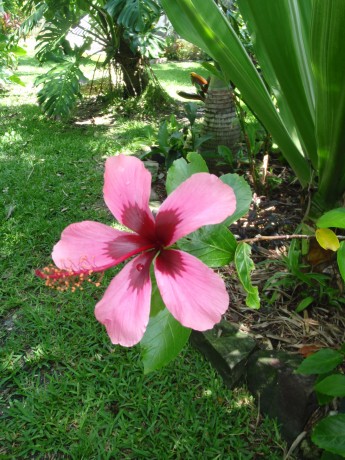 "Red Lantern"  a unique hibiscus that hangs down like a pendant- bright red, resembling a Chinese Lantern: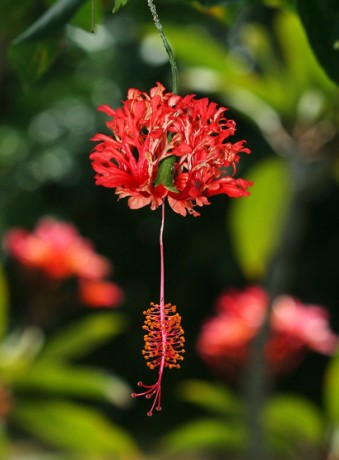 and "Hawaiian Salmon"  an unusual looking flower that is a creamy salmon color with a red/pink center with serrated/rippled edges: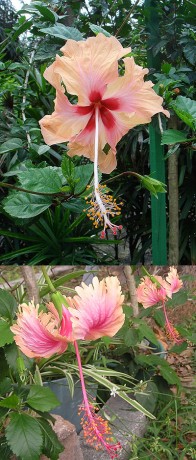 All 3 are strong growers that are cared for like you would any common hibiscus in our area.
The nursery is located in Indian Harbour Beach, Florida off the A1A:
Exotica Tropicals
912 Pinetree Dr (Space #912)
Indian Harbour Beach, 32937
Just north of the Beachside Lowes
(Across the street, Space #912, next to the Thrift Store)
Call 321-960-8928 for more info
Happy Gardening!