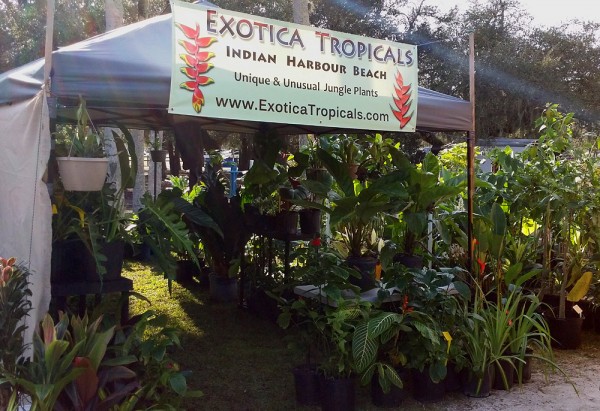 HUGE TROPICAL PLANT SALE THIS WEEKEND SAT MARCH 3RD
at Downtown Melbourne Botanical Fest!
Exotica Tropicals will be PACKED with awesome tropicals this weekend at the show..
We will have a LIMITED QUANTITY of **Beautiful** 3-5 Foot Tall Rainbow Eucalyptus trees in 3 gallon pots- ready to go right into the landscape or pot up to a 7 gallon.
(These will sell quickly, if you would like to pay ahead and reserve yours for pickup at a later time – email us at ExoticaTropicals@gmail.com)
We will also have:
Tahitian Gardenias
Fragrant Ylang Ylang Trees
many types of Heliconia, including Hanging Lobster Claw – sizes vary from 3gal to 7gal.
Sausage Trees
Japanese Fern Trees
Black Stem Thai Bananas !
Red Ginger
Plumeria
Unusual Cordyline (Ti Plants)
Unusual Aroids (Philodendron, Anthurium, etc)
and plenty of cool oddball plants!
We will also have a very limited supply of Tropical Flower Bouquets (Heliconia, Ginger, etc) available on a first-come basis- so get there early on Saturday for the best selection.
This show only happens once a year, and it's a great one, so don't miss it!