Updated:  4/16/2013
Below are photos of just a few of the tropical plants we currently have in stock – we try to keep this page updated and current, but of course we are always adding new plants and selling others!
If you want to check on a plant's real time availability- just give us call at 321-960-8928
What's new in the nursery:
Cordyline (Ti Plant)  "Bryan's Diamond"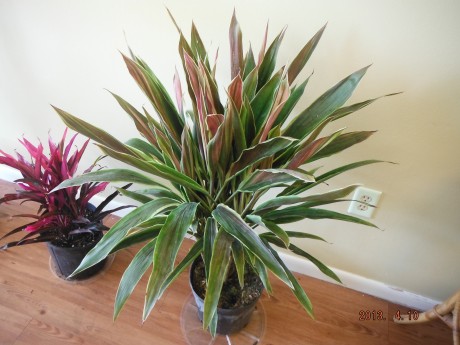 Alocasia "Stingray"  – unusual leaves resemble a stingray in shape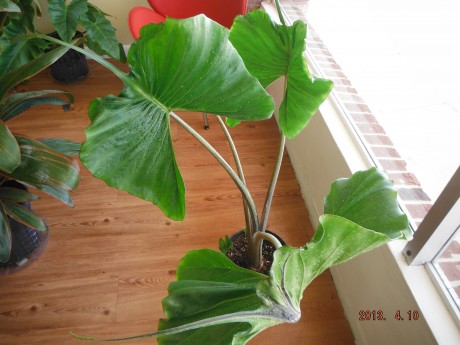 Xanthosoma Violaceum (Blue Taro)  Large Leaves with Blueish-Purple Stems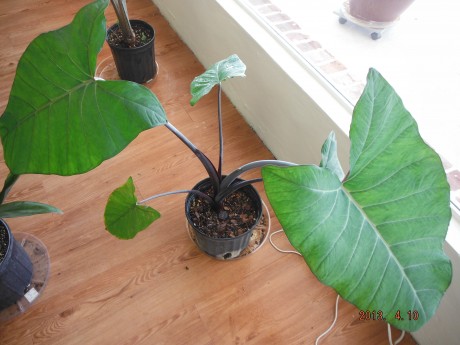 Philodendron Subincisum – A large leaf climber – great for indoors or out
Cordyline "Neapolatin Ice Cream"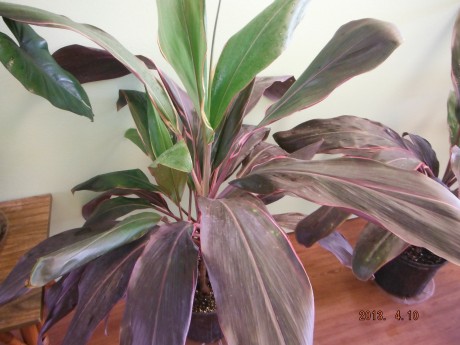 Heliconia "Sharonii" (purple undersides to leaves, upright claw flowers)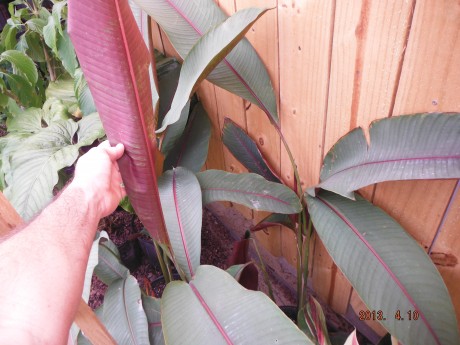 Collector Cordylines (unusual Ti plants)  – Picasso, Neopolatin, Schubertii, Pink Magic, Hilo Rainbow, etc
"Pink Magic":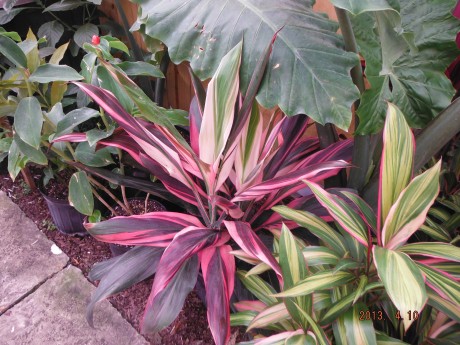 "Exotica":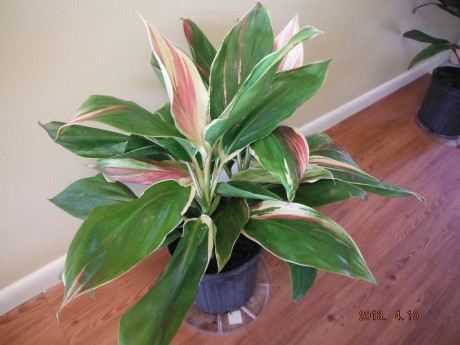 "Cocktail Ti Plant" (mix of varieties in same pot)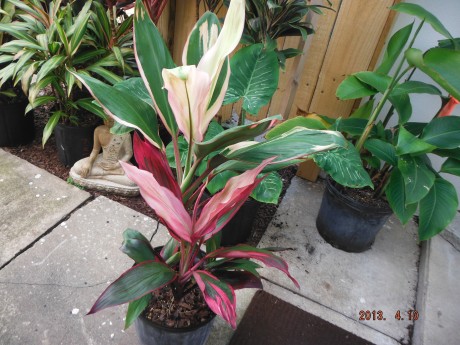 New! -  Black Stem Alocasia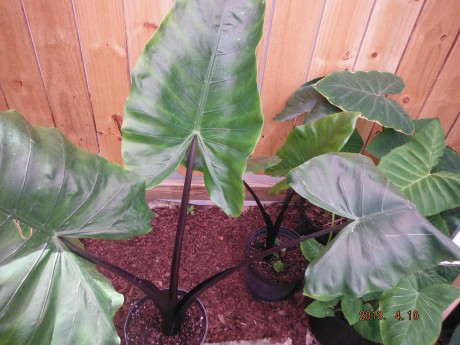 New! – Rare Thai BLACK Banana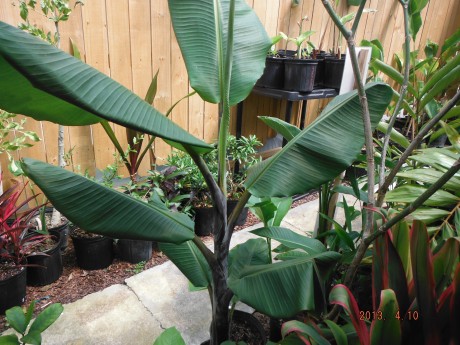 Large 7gal Alocasia Portora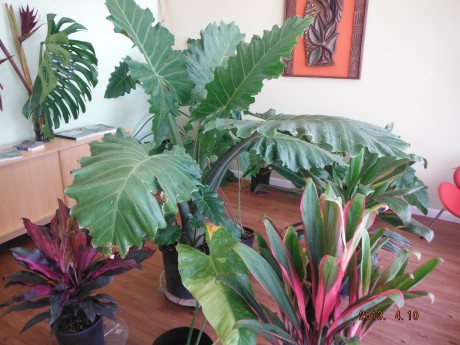 Philodendron "McColley's Finale" a beautiful Philodendron with large red leaves. Very colorful.
To the right is Philodendron "Bob Cee" an unusal climber with elongated and glossy serrated leaves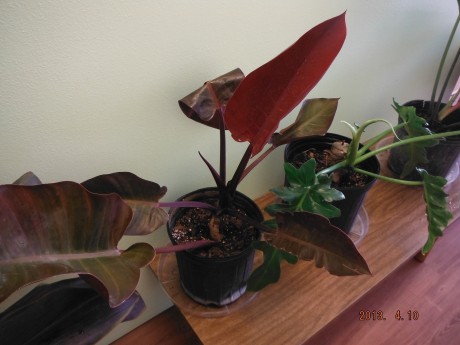 Many types of climbing Philodendrons- Shown below: Philodendron Pedatum and "Ace of Spades"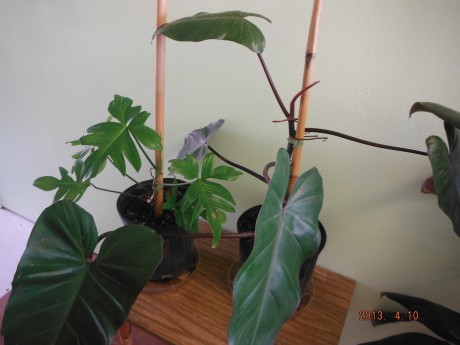 Sausage Trees
Brunfelsia manaca (Fragrant Flowers)
RED Shrimp Plants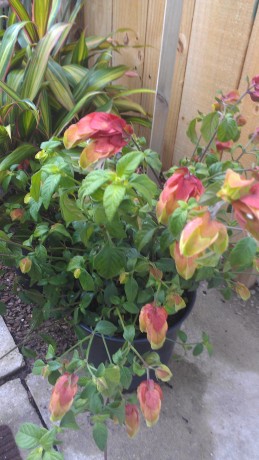 Megaskepasma erythrochlamys "Brazilian Cloak"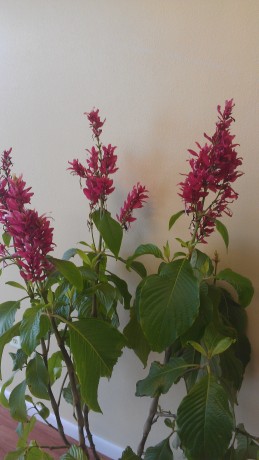 Heliconia  "Pedro Ortiz"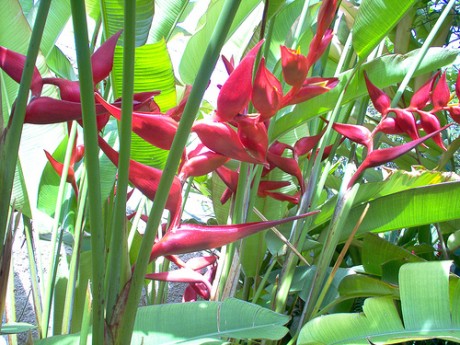 Heliconia Latispatha "Distans"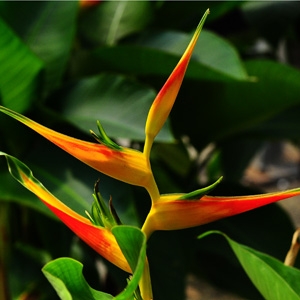 Costus "Red Buttons"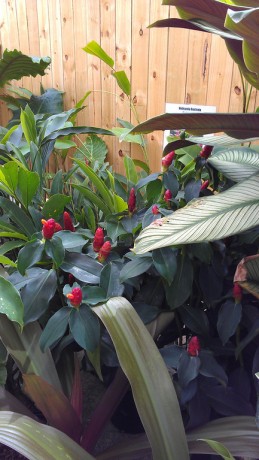 Cordyline "Cameroon"  (Ti Plant)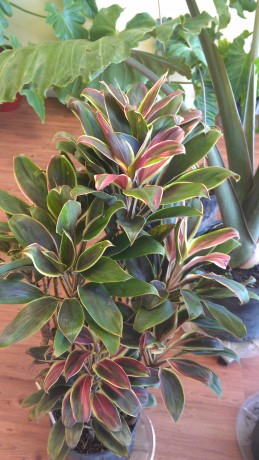 More plants currently in stock:
Michelia Champaca  (Very Fragrant Tree with Orange Flower)  Golden Champak / Magnolia Champaca
Tabernaemontana Crassa (gets giant glossy leaves and clusters of big very fragrant white flowers) 1 left
Variegated Pandanus (spineless screwpine)
Big Leafed- Alocasias: Calidora, Portora, Borneo Giant, Stingray
*Leafless* Bird Of Paradise (Strelitzia juncea)
Heliconia Collinsiana, Rostrata, Stricta "Iris Bannochie", Oriole Orange, Latispatha "Distans", Golden Torch, Episcopalis (NEW)
Xanthosoma Violaceum (Blue Taro)
Rhaphidophora Tetrasperma "Ginny" or "Mini Monstera"
Buccaneer Palm (Pseudophoenix sargentii)
Orange Plume (Justicia 'Sidicarlo')
Yellow Plume (Justicia Aurea)
New Collector Cordylines (Ti Plants)   Kiwi, Lemon-Lime, Cameroon etc
Panama Queen (Aphelandra sinclairiana)
Black Batflowers
Anthurium Watermeliense and Faustino's Giant
and a bunch more interesting stuff