Looking for a new tree after Hurricane Matthew? Exotica Tropicals has some nice ones in stock-  we've got:
6-7 foot tall RAINBOW EUCALYPTUS (Eucalyptus deglupta – colorful trunk)
5-6 ft YLANG YLANG TREES (Cananga odorata- fragrant flowers – used in Chanel #5)
5 foot KATUK Trees (Sauropus androgynus -You can eat the leaves- a staple food in Borneo +cool looking flowers)
on KATUK:  "It has a pleasant peanut-like taste when eaten raw and the cooked leaves taste excellent as spinach. The plant is sold everywhere in Malaysia and nearby countries, where it is grown as an edible hedge. Malaysian scientists have developed a technique for forcing the shoot tips to grow extra long and tender by applying plenty of manure, water and (sometimes) shade. The 5-inch shoot tips (locally called "sayor manis") are sold to upscale restaurants and also exported to Japan, and possibly elsewhere, as "tropical asparagus." I ate these in a hotel in Malaysia and they were outstanding. The chef stir-fried them for one minute."
5-6 foot tall PINK POWDERPUFF TREES (Calliandra surinamensis – amazing looking pink puffball blooms)
PLUS we have tons of Heliconia varieties, Gingers, Philodendrons, Anthuriums, Elephant Ear Alocasias, and more!
Stop by and check out the jungle!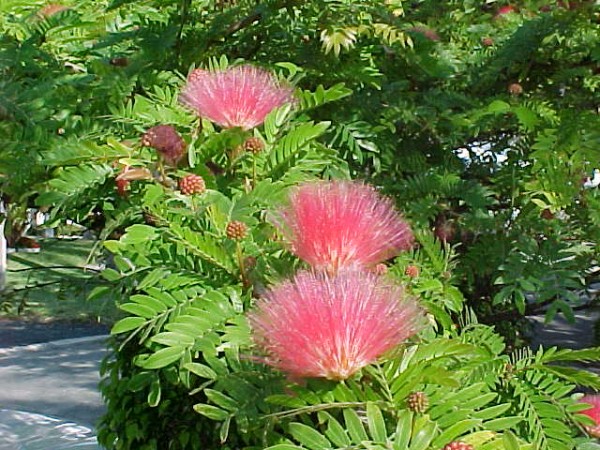 Pink Powderpuff Tree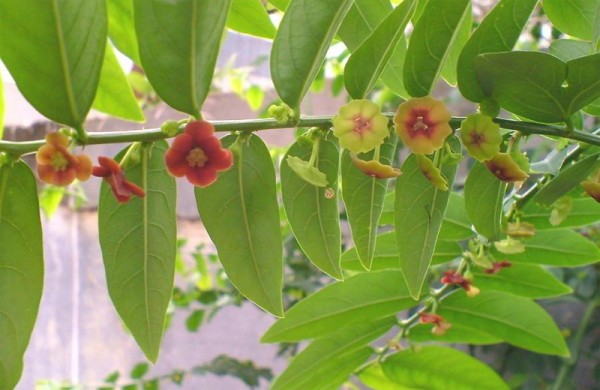 Katuk Tree