Here are a few photos of new arrivals and choice plants around the nursery this week.  Exotica Tropicals is open Wednesday through Saturday 9:30 am to 1:30 pm (usually a bit later on Saturday)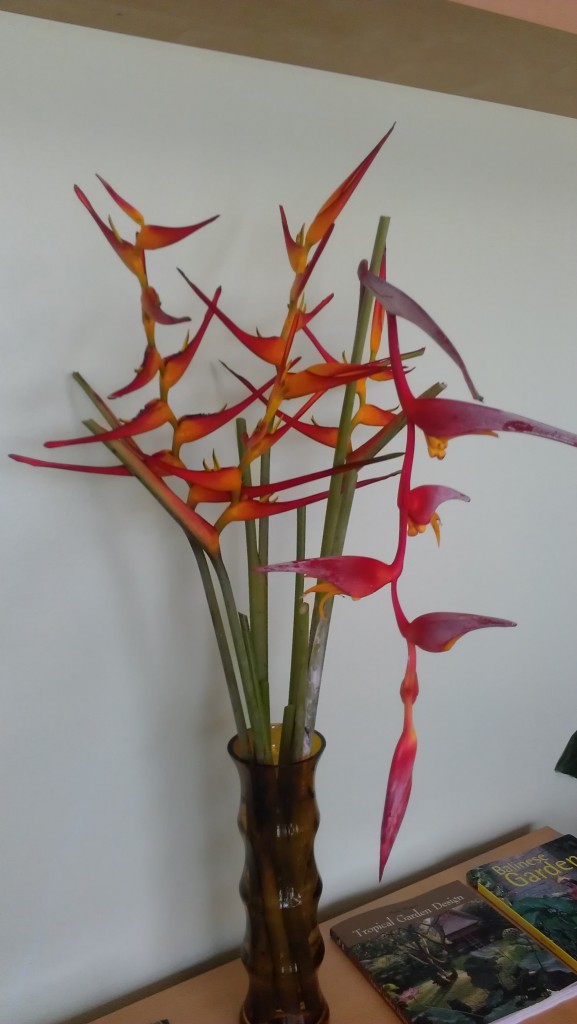 Some new blooms in the lobby vase this week- Heliconia Latispatha 'Red Yellow Gyro' and Heliconia Collinsiana. Both are great bloomers in Brevard and both are in stock.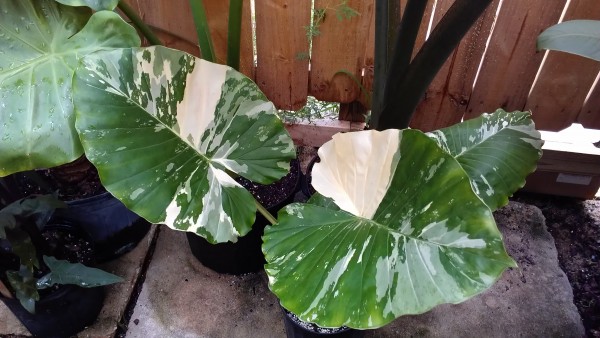 This is a cool new one- Variegated Alocasia gageana 'California' – this is a dwarf Alocasia- it gets a leaf about 2 feet long and stays around 3-4 feet tall.  The variegation is the really unusual element- I have never seen this type of Alocasia with variegation, and what's more, it is quite stable in bright light.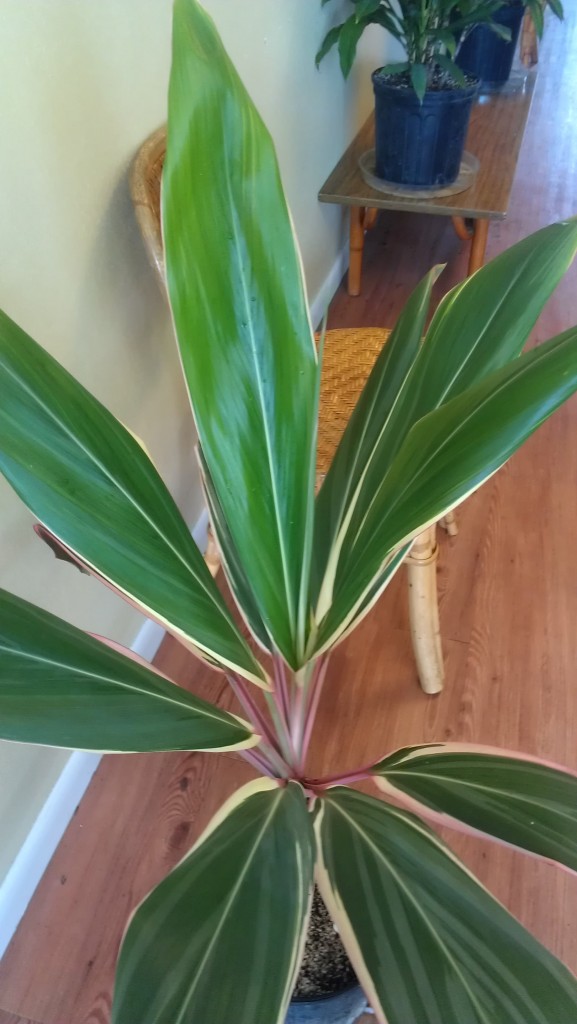 Just got a couple 'Pink Diamond' Ti plants in (Cordyline fruticosa)  This variety is a very strong grower with a noticeably different coloration than most Ti plants.  It  does well in bright sun, but has become difficult to find. I have a small limited supply of these- definitely the collector's Ti plant.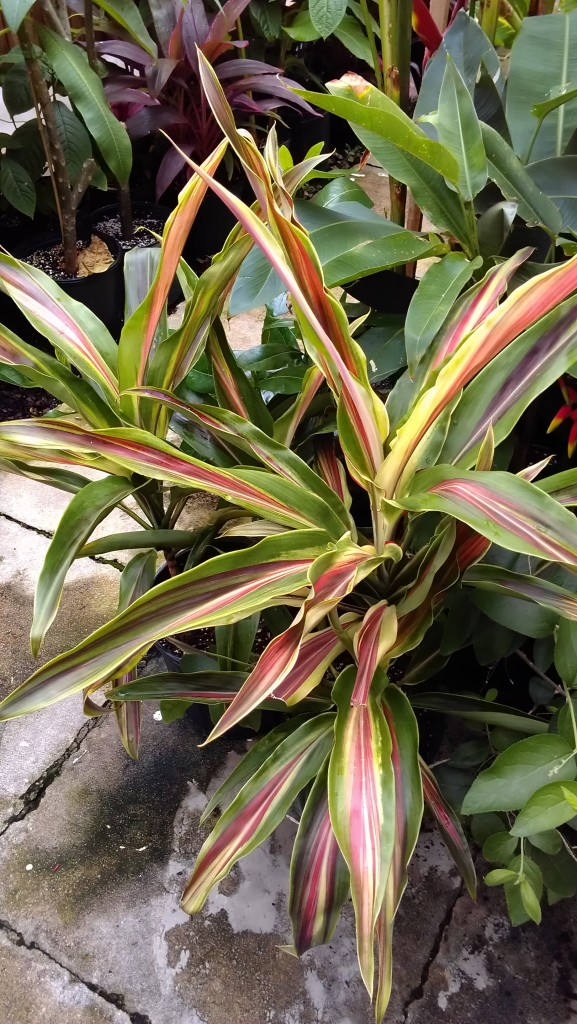 Another very cool Ti plant- this is Cordyline fruticosa 'McInerny's Spear"  it is quite colorful and an easy grower. Likes plenty of bright light.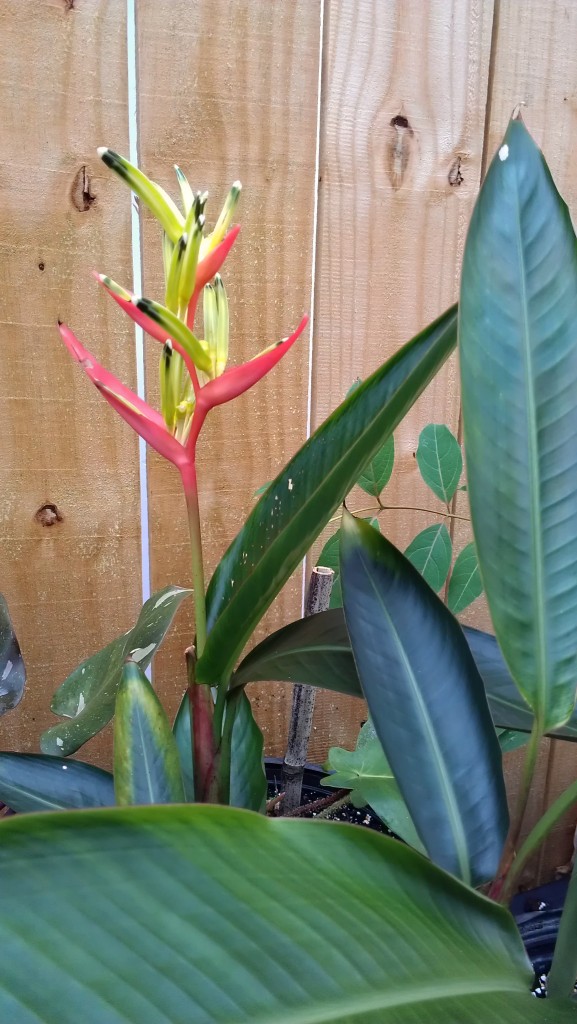 The heliconia are going crazy at Exotica Tropicals this summer- everything is loving the heat and humidity- putting on lots of growth- its –like a jungle in here!  Here is an unusual favorite of mine- I've never been a huge fan of the small "parrot's beak" (Heliconia psittacorum) but this particular hard to find cultivar is awesome- it has a flamingo-pink bloom unlike any other I've seen. In fact, it's name is Heliconia psittacorum 'Flamingo'  – the bright pink blooms sit atop very deep green glossy foliage. It likes a bright, but partial sun. Grows to about 3-4 feet and is cold hardy. Just have a few in stock, but its a great one.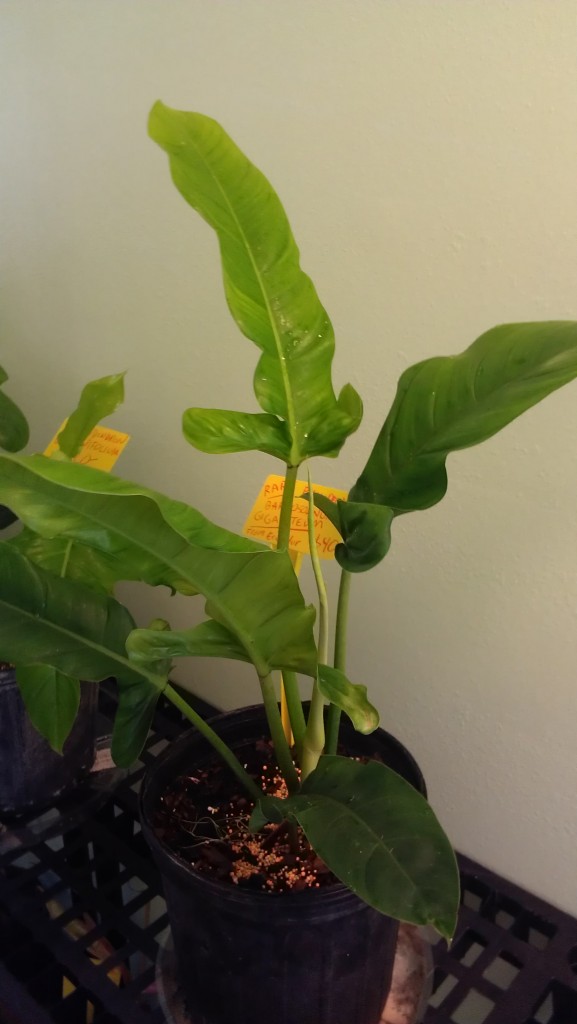 Exotica Tropicals specializes in unusual and hard to find Philodendrons.  Climbers, self-trunkers, you name it and we've got it. I'm a bit of a Philodendron nut- I've recently expanded shelving to carry more philos.  Most Philodendron can be grown indoors or outdoors in Florida. Indoors, they need a bright window nearby- outdoors they like a partial sun for the most part and can get HUGE leaves.  This is a new & rare one that just came in from Ecuador- Philodendron barrosoanum giganteum.  As you can guess from the name, the leaves can get gigantic. It's a robust climber- let it grow up a palm or tree trunk and give your garden that Ecuadorian jungle feel